Best Beginner Drone [Top 5 Beginner Drones]
Looking for the best beginner drones? You're in the right place. Lots of people want to get into the drone hobby but don't know where to start. Thanks to the recent explosion of the consumer drone market, there's thousands of options out there and each one claims to be the best choice for first-time fliers. How can you find the one that's truly right for you?
That's where we come in. Since 2012, Dronethusiast has been the premier site for drone news, reviews, and buyer's guides. We're staffed by qualified drone experts who know the industry inside and out. And we've gotten together to put together a list of the top 5 best beginner drones of 2019. Whether you're buying for yourself or looking for the perfect gift to get a friend to start flying quadcopters, there's sure to be something here for everyone.
Best Drone For Beginners
The following drones have been selected for their durability, feature set, and other factors described in each individual review. Take a look around and see if you can find the best drone for beginners that suits your needs!
Altair Aerial AA108 – The 2019 Best Beginner Drone
Read reviews and show for the Altair AA108
If you're a first-time pilot looking to get into the drone hobby, there is no quadcopter we recommend more highly than the Altair Aerial AA108. This has been a Dronethusiast favorite for years now and it still holds up thanks to a nigh-unbreakable durability design, great usability features, price, and camera. It even has a good range and flight time!
Thanks to headless hold mode and the fact that the drone maintains its mid-air altitude, you never have to worry about the complexities of serious drone piloting, making it easy to pick up and learn. But you can also turn these settings off over time and turn up the speed as you get better at flying, making this the rare training drone that's still fun to fly even as you become an experienced pilot.
Other drones have some of the same features, but no other drone provides the complete package quite like the AA108 does. This is truly a drone that works for anyone.
Features:
• 10 minute flight time
• 100 Meter range
• 3 flight modes for different skill levels
• Headless mode for easy beginner flight
• Automatic altitude hold
• One-touch takeoff and landing
• Built-in 720p HD camera
Pros:
• Extremely durable
• Extremely easy to fly
• The drone "grows up" with you and is fun for beginners and intermediate pilots alike
Cons:
• Does not fly well in strong winds
• Video photography requires the purchase of a seperate TF flash card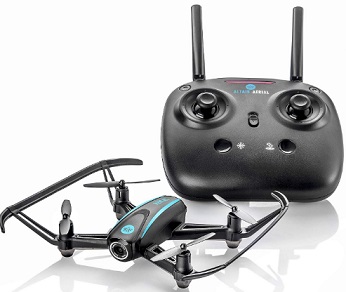 Click To Shop or Read Reviews
AA818 Hornet
Read reviews and show for the AA818 Hornet
The Hornet is sold as an "advanced" version of the AA108, but a better word might be "specialized." The AA108 is a drone that works well for anyone. The Hornet is a drone specifically aimed at those beginner drone pilots who have an interest in aerial photography.
And on that note, this beginner drone is a complete success! The long battery life (15 minutes off of a single charge) and more stable design give you plenty of room to line up the perfect shot, and the longer range of 150 feet allows you to get up to those hard-to-reach places other beginner cameras can't cover.
This is on top of all of the ease-of-use features that made the AA108 so popular in the first place.
Features:
• 15 minute flight time
• 150 Meter range
• 3 flight modes for different skill levels
• Headless mode for easy beginner flight
• Automatic altitude hold
• One-touch takeoff and landing
• Built-in 720p HD camera
Pros:
• Long range
• Long battery life
• Easy to fly
Cons:
• Only comes with one battery
• The extra features may not be worth the extra cost to pilots who don't care as much about photography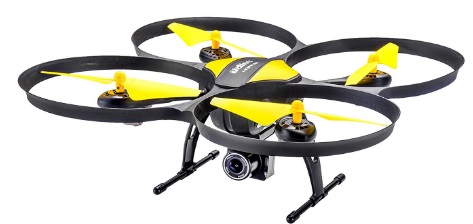 Click To Shop or Read Reviews
Holy Stone HS170 Predator
Read reviews and show for the HS170 Predator
The fact that Holy Stone chose to name the HS170 the "Predator Drone" is certainly…concerning, but leaving the terrible name aside this is one of the best drones for beginners you'll find in 2019. The best thing about this drone is that it's incredibly cheap – for less than $40 USD you're getting a good range and performance as well as three flight modes that are specifically designed to help train new pilots. Plus, it has a very unique and stylish design that kids will love!
Features:
• 5-7 minute flight time
• 50 Meter range
• 3 flight modes for different skill levels
• Headless mode for easy beginner flight
• 6-axis gyro for stability
Pros:
• Best beginner drone you'll find for under 40 dollars
• Unique design
• Designed with new pilots in mind
Cons:
• No camera
• Low battery life and long charge time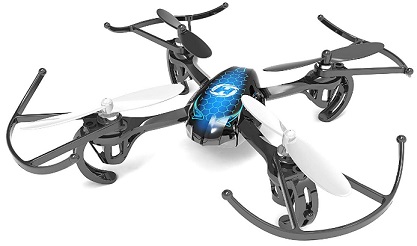 Click To Shop or Read Reviews
Syma X5C-1 Explorers
Read reviews and show for the Syma X5C-1 Explorers
You read that right – this drone is called the "Explorers", not the "Explorer." If your number 1 concern with buying a new drone is durability, this is the choice for you. Don't be fooled by the smaller prop guards – every piece of this drone is made with a tough, anti-collision design that can really take a beating under most conditions. It's a shame the other features aren't quite as impressive as the design itself, but for only $70 this is still a great cheap drone for beginners.
Features:
• 6-8 minute flight time
• 45 Meter range
• Built-in 720p camera
• Altitude hold mode
• 6-axis gyro for stability
Pros:
• Extremely durable
• Very stable hover
• Good camera
Cons:
• No extra flight modes
• Low battery life and long charge time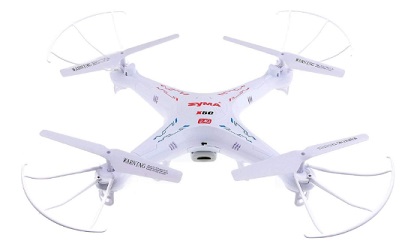 Click To Shop or Read Reviews
DJI Spark
Read reviews and show for the DJI Spark
So, here's the thing about the DJI Spark. This is a good drone for beginners 2019 if two things are true about you: 1) you have a lot of money to spare and 2) you don't actually want to learn to fly. With advanced Gesture Mode features and other automated flight modes, this drone truly flies itself and takes great photos and video while it does so. But it may not be the best choice for pilots who actually want to learn to fly for themselves.
Features:
• 15 minute flight time
• 2000 Meter range
• Built-in 1080p camera
• Advanced obstacle avoidance and Gesture Mode features
Pros:
• This drone can fly autonomously with very little input
• Great range
• Best camera
Cons:
• Very expensive
• Not a good training drone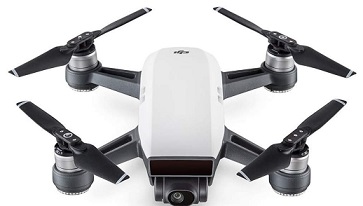 Click To Shop or Read Reviews
Best Beginner Drone FAQ
How to fly drones?
The number one question beginners want to know about is how to fly a drone once they've purchased it for themselves. The good news is that many of the drones on this list will practically fly themselves thanks to a number of automatic stabilization modes like heading and altitude hold. All you have to worry about is the analog sticks.
If you've ever played a videogame using a controller, you'll feel right at home with a drone. In a similar fashion, the left stick generally lets you turn in the air and move up and down, while the right stick is what you actually use to move horizontally. Any drone will come with a manual telling you how to use it, and if you have an open field to practice in you'll be able to figure out the basics fairly quickly without having to worry about crashes.
Check out our rules for flying quadcopters if you want more in-depth information on this topic.
What are the best beginner drones?
When buying a drone for beginners, you want to look for the following specifications:
High durability. As a beginner, YOU ARE GOING TO CRASH. This is a natural and normal part of the learning process – we'd be lying if we said there was a single member of our team that didn't crash their first drone dozens of times. With that in mind, you need a drone that can withstand those first few crashes and last long enough for you to figure out how to fly properly.
User-friendly controls. Features like altitude hold mode, heading hold, and slower flight speeds will make the drone easier to control and therefore better for learning. The best drones for beginners let you turn these features off, one by one, so that you can work your way up to more advanced piloting techniques.
Safety features. A good beginner drone will land itself when the battery's running out, for example.
Price. This one is obvious. Don't spend thousands of dollars on a drone you might not be able to fly properly!
Battery life and range. These are good things to look for with any drone. Remember that the battery life is probably going to be shorter than you'd expect – 15 minutes is considered very good for a beginner drone, while 20+ minutes is all but unheard-of.
Where can I find beginner drones for sale?
Most people either buy drones on Amazon or directly from the manufacturer. Sometimes manufacturers' websites will offer special benefits for buying through them – Altair Aerial, for example, offers free shipping.
We are partnered with the Amazon affiliate program, so we get a little bit of money each time you buy a drone using one of our links. If you like our writing and think this article was valuable to you, consider buying through the buttons above to help support our site at no extra cost to yourself!
What are the best beginner drones for photography?
The AA818 Hornet is probably the best beginner-focused photography drone on the market, but you can't go wrong with basically anything that has a 720p camera or better.
Are there good beginner drones with GPS?
Actually, yes! It didn't quite make our final top 5, but the Outlaw is a great new drone that's really easy for beginners to fly and which has advanced GPS features. It lacks the durability of some of the other drones on this list and has to be calibrated each time you fly, but if what you really want in your first drone is some innovative GPS-based functionality it's an excellent choice.
You can read our full review of the Outlaw by clicking here.
Finding The Best Drones For Beginners
We hope this article has helped you find some of the best drones for beginners 2019. If you have a question about one of our reviews, or a great 2019 drone that we missed, be sure to let us know in the comments! Your feedback helps us to keep our articles regularly updated with the best and most accurate information we can.

Mike is an online entrepreneur and digital marketing specialist who also loves flying drones. He has owned and managed Dronethusiast since 2015 and enjoys writing reviews and analyzing different topics in the fast moving Drone technology space. Along with the editorial team at Dronethusiast Mike spends hundreds of hours each year analyzing and studying different drones and their tech specs to help consumers find the best products for their needs. Contact Mike by using the Dronethusiast.com Contact page or reach out at mike@dronethusiast.com.